Do you like to read your horoscope? Do you read it the day before? Do you read it the same day? Or are you like me and don't read it until months after the day has passed? It's nothing personal against horoscopes; I like reading what they have to say. And more often than not, it seems like useful advice. (Although, they seem to be getting more and more watered down. Kinda like the fortune inside fortune cookies. "You should be able to undertake and complete anything." Kinda broad. Or maybe it's just my luck that gets me vague fortunes.) Anyway, the reason I don't read them the day before or the day it is supposed to apply to actually has nothing to do with the horoscope itself. It's actually because I like to do the crossword puzzles that are on the same page in the newspaper and I refuse to look ahead for fear of seeing an answer to a puzzle I haven't done yet. (I know, pretty weird, right?) Then to make matters worse, I don't the crosswords every day so I have a huge stack of newspapers patiently waiting for my attention. But I like doing it my way better because I can still glean the information from my horoscope without stressing out about what it could be trying to tell me about my day. And like I said, it's usually more advice that could apply any day.
One that I clipped out and keep in my jewelry box is one such example.
The roadblocks on the path to romance are not big problems. They're more like a dozen daily habits that don't exactly engender closeness or excitement. Seize playful moments and make the most of them.
See? Anyone can use and apply that to their lives. But then over the weekend, I read my horoscope from December 20. (I wasn't kidding when I told you I had a serious backlog of newspapers.)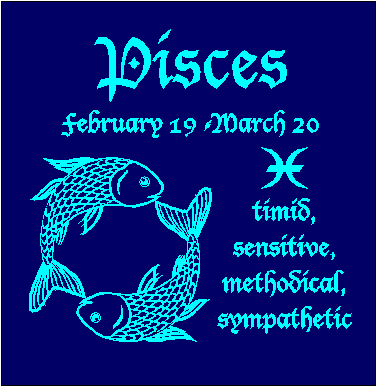 Your sign can change moods as quickly as a chameleon changes colors. But today you'll be in a state of mind that you want to hang on to for as long as possible. External circumstances cannot change this.
I read this to my husband and he gave me a look that said, "You're telling me!" Apparently all Pisces have mercurial moods, but in my case, it is amplified by 1,000 when I'm PMSing. A week ago Saturday was one of those days and it was not fun for anyone in this house. I could feel my moods flying all over the place like a really bad rollercoaster ride. And I'm sure my husband wanted to scream, "I want off this ride! This is not what I paid for!" I was bouncing from being fine to pissed off to tears with no real warning as to when or how the next mood would strike. Then after my three year old had gone to bed, I showed a real lack of judgment by adding wine to the mix because, "I needed to relax."
Normally when I drink, I'm a happy drunk. (Okay, a happy buzzer because I rarely ever get drunk anymore.) I laugh and talk and am generally cheerful. Probably obnoxiously so. You know the type. The one who won't stop talking long enough to let anyone else get in a word. (I attribute that solely to my lack of conversation any other day of the week.) The one who finds everything super funny and is always laughing and playfully touching everyone. Yeah, that's pretty much me. (I'm totally ruining my chances of anyone wanting to go have drinks with me now, aren't I?)
But, as I have learned, a PMSing Pisces that drinks just three glasses of wine (that might have been a bit much), turns into the pathetic, crying drunk. It all started off good because I could feel myself starting to relax and I was chatting with my husband while we watched…(what did we watch? Some form of MMA I think, but now I'm not sure.) Well, whatever was on TV. Then I started telling him I was sorry for being so difficult during the day and that I thought I must be PMSing. I could feel the tears starting to well up and before I knew what happened, I was a blubbering mess. I could have been a walking commercial for why drinking is bad. Or Midol. (Although, I'm not sure if Midol does much to help the mood swings. Does anything?) My poor husband. What he doesn't have to put up with. Thank goodness that time of the month only comes once a month. And that drinking is not something I often indulge in. And that I married a Scorpio who is somehow fated to put up with my shit.
(As as aside, I was looking at the characteristics of Pisces in that picture. I don't think they apply during PMS.)