This seems to be a common affliction today. This lack of focus. My brain just doesn't seem up to the task of processing anything. I'd like to blame it on lack of sleep, but I know I've been getting more sleep than my poor friends Kat (who's so very sick; go over to her blog and give her some love) and Jewels (who's been battling her own bouts of insomnia), so it doesn't really seem right that I complain. But I did have two thoughts that I wanted to throw out there. If for nothing else than to free up the brain power it's taking to ponder these ideas.
My laptop is supposed to be delivered today and according to the tracking information, is on the truck for delivery. Wouldn't it be wonderful if part of the tracking details gave you an up-to-the minute GPS location? It seems too hard to pull off (from a company's perspective), but think about it this way. If each truck (or airplane) were equipped with GPS (which I imagine most of them are), then all it would require for this GPS tracking would be one extra scan. They scan the package when it comes and goes from their "terminals" so if they could scan the ID of each vehicle it was going on to, that information could go into the computer system and their websites could show the GPS location of the package. That way you could see how far away the truck is from your home and wouldn't have to keep looking out your window every 15 minutes to see if you can see the truck coming around the corner. Not like I am, or anything…
My other thought was this: When you see an actor in two different shows playing totally different characters, does it affect how you look at each character? There is an actor that has a small role on Sesame Street's "Elmo's World." His name is Bill Irwin and he plays Mr. Noodle.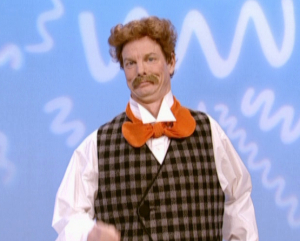 Last year, he took a role on one of my favorite shows, "CSI." He plays a psychopath serial killer, Nate Haskill. I'm not sure if the character by itself freaks me out or if I'm more freaked out by him because I've seen him play this other character. Whichever the case, he's scary!
The fact that he is also a trained clown may be the reason for my fear. He's always sort of disturbed me on Sesame Street, too. (I hate clowns! Scary, scary, scary!)